In this day and age, educational technology is undergoing far-reaching changes in the field of education. The blackboard and chalk have always been indispensable teaching tools in the classroom.
However, with the development of science and technology, more and more educators realize that the combination of information technology into the classroom teaching, can effectively promote the learning effect, so that the content becomes vivid image.
Smart Teaching Ecosystem
As a leading provider of intelligent teaching devices, we are committed to building a smart teaching ecosystem for educational institutions.
Our range of smart teaching solutions meets the needs of different stages and areas of teaching, bringing a new teaching experience to teachers and students at the same time. Our smart boards are not only powerful, but also very easy to operate.
Teachers can edit and import all kinds of teaching content on the smart board with simple touch operation, and realize the output from simple writing to rich 3D images, giving students a visual and sensory impact.
Interactive and collaborative
Compared to traditional blackboards, our SmartBoard is both interactive and collaborative. Teachers can use it for online teaching, while students can freely use their imagination to write and communicate on the board.
What's more, our SmartBoard has a powerful storage function that can digitize and save any teaching content on the board, helping teachers to build their personal course library and access previous lecture materials at any time.
Online synchronization is also possible, allowing remote students to control the progress of the class while sitting at home.
Intelligent Teaching Program
For educational organizations, adopting our smart teaching solutions can bring many other benefits.
Enhance the quality of teaching and learning efficiency, smart boards can effectively integrate multimedia teaching resources into the classroom, cultivate students' interest in learning, and help the knowledge to be integrated with students' brains faster and deeper.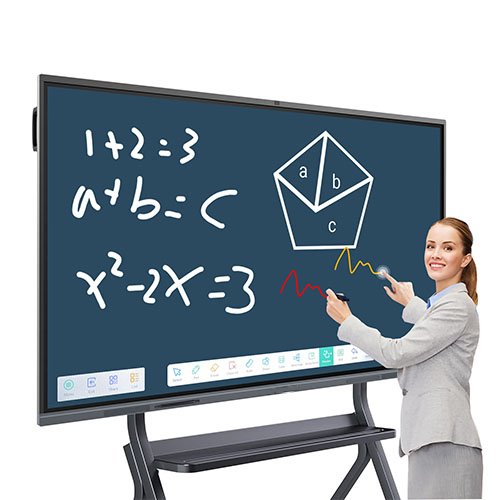 To create a mobile and flexible classroom, teachers and students alike can enjoy the convenience of learning anytime, anywhere with the continuous updating of terminal equipment.
This is beneficial to the development of students' independent learning ability.
Reduce teaching costs, digital classroom can maximize the life cycle of teaching resources, and no longer need to print and post-processing of paper materials, thus significantly saving money.
To establish an integrated smart environment on campus, we can provide you with comprehensive services from hardware equipment to back-end management software support to help you establish an efficient and convenient smart campus.
To create an outstanding image for your educational brand, adopting industry-leading smart teaching solutions can enhance your school's visibility in the market and society, and attract more outstanding students to enroll in your school.
Our professional sales consultants will be happy to provide you with customized services to help you choose a wide range of powerful smart boards and teaching solutions that fully meet the actual needs of your school or organization.
We believe that with the support of our partners, you will become a leader in this field of education! Please feel free to contact us if you have any teaching equipment needs and are interested in evaluating our products.