With the advent of the intelligent era, smart boards are becoming an indispensable and important devices for home entertainment scenarios. Through the smart board, we can create a more convenient and comfortable smart life. Let's take a look at the practical ways that smart boards can be used in home entertainment.
Watching video for entertainment is the basic function of the smart board. Through the smart board, you can enjoy a large number of video content resources such as movies, TV series, and variety shows anytime, anywhere, and enjoy an audio-visual feast. Whether it is projected to a large screen or viewed on a mobile phone, it is clear and smooth.
Music playback is also a highlight of the smart board. You can load various music software, store your own music library, and enjoy high-quality music experience. Combine with home speakers to form a sound system, filling the room with wonderful music.
Gamers can also feast their eyes. The high-performance configuration of the smart board can run large-scale games smoothly, whether it is online or stand-alone, it can bring a shocking gaming experience. Large screen projection is more immersive.
Through the mirror projection function, you can also use the smart board as a computer for both work and entertainment. Support multi-terminal synchronous collaboration to make life more efficient.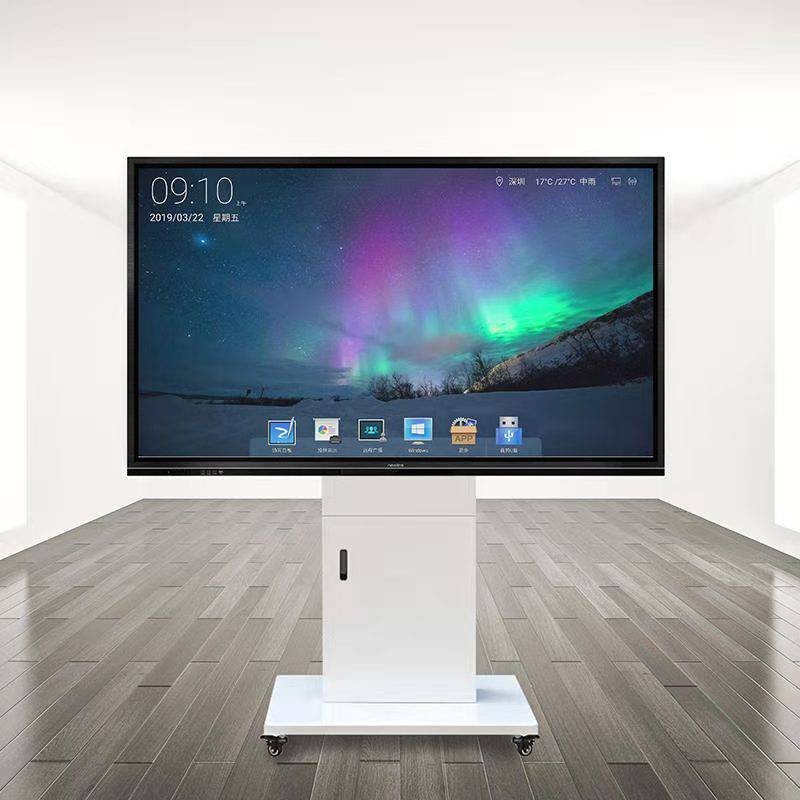 The smart board also supports one-click access to various Apps, fully meeting entertainment, shopping, work and other needs. Strong scalability makes life more convenient.
It can be said that the smart board brings infinite possibilities to the family. Creating an immersive entertainment experience through the smart board will surely create a smarter and more convenient life.
1. Through the voice assistant, the voice operation control of the smart board can be realized, so that both hands can be completely released, and you can control the smart board to play your favorite music or video while washing vegetables and cooking, bringing a more free and comfortable use experience.
2. Connect smart home devices such as smart speakers, smart light bulbs, and air conditioners at home to realize centralized and unified control of these devices and linkage of custom scenes. For example, when returning home from get off work, you can use voice commands to realize the "home mode", automatically turn on the air conditioner, adjust to a comfortable temperature, turn on the ambient light, and play light music to create a perfect cozy atmosphere.
3. Choose a smart whiteboard that supports seamless multi-screen collaboration and intercommunication. You can transfer the content or operation images of the smart board to your mobile phone or notebook at any time, and you can also transfer the content of the mobile device to the smart board to realize cross-screen communication.
4. Through the rich life service Apps on the smart board, you can order food, e-commerce shopping, book travel and other life services without leaving home, avoiding the fatigue of going out, and meeting life needs more efficiently and conveniently.
5. Use the high-definition video call function of the smart board to meet and chat with family and friends far away in real time. Even if they are thousands of miles apart, you can still feel the intimate connection and get emotional support.
6. Connect to the indoor camera, and support remote monitoring and video broadcasting, you can check the situation at home through the smart board anytime, anywhere, to ensure the safety of life, and go out with confidence.
7. Choose a smart board system interface that supports users to customize freely. You can DIY design a personalized home control center to make smart life more suitable for your personal style.
8. Under the correct guidance of parents, properly allowing children to use the smart board can realize entertaining and entertaining, and use the interactive learning app to start the journey of wisdom growth.
To sum up, the powerful functions of the smart board make it possible to build a more convenient and humanized smart life. Realize applications such as voice control, smart home linkage, video calls, and security monitoring through the smart board. We can create an immersive entertainment experience, easily obtain various life services, and keep closely connected with relatives and friends, making life more intelligent and convenient. customization and personalization. With the advancement of technology in the future, the smart board will become an important carrier of a happy and beautiful life, and we have reason to look forward to it.